I took part in GMTK Game Jam 2021 and joined alone this time. The theme of the jam was "Joined Together". I ended up 27 overall and 7 in originality out of 5816. Below is my score card.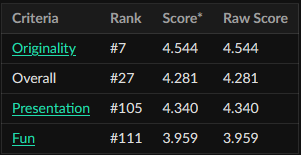 Description
You are about to share an important earnings report that might land you a promotion, but for some reason, the projector uses a SATA cable while your laptop only has USB ports. Luckily for you, the office has many weird dongles you can use. Find a way to convert USB into SATA so you can give the maybe most important presentation of your life.
Controls
You can drag dongles around using left mouse button.
Dongles automatically connect when pushed into matching connection type.
You can disconnect a dongle again using right mouse button.
When you hover over a dongle, the connection type is shown in the top right corner.
Play on Itch.io
You can play the game in your browser or download a Windows built over at Itch.
https://levimoore.itch.io/dongle-hell